This article will teach you how to sync clipboard across Android and Windows. Clipboard syncing is a feature that allows users to share text from one device with another, making it easier for people who work on multiple devices.
The "how to sync clipboard across devices" is a question that has been asked many times. There are several ways to do this, but the most common way is by using cloud storage services. One of the best and free options for this is Google Drive.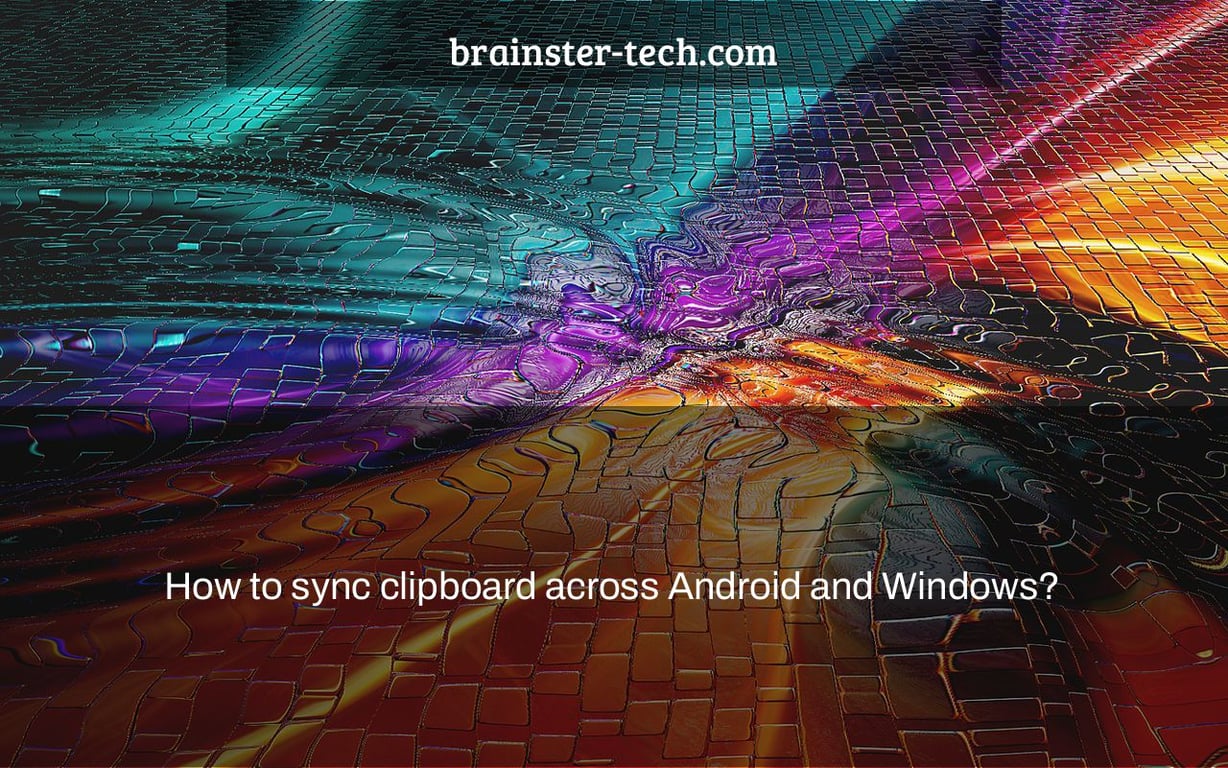 Android smartphones have reliable keyboards. They know what's going on in your thoughts; I mean, they propose what your next word will be even before you write the following letter, which is astonishing, right? Apart from text prediction, Android keyboards also offer another useful feature: the clipboard.
This clipboard keeps track of everything you've copied and lets you retrieve it in a flash. Although strong, clipboards had a privacy problem prior to Android version 10. Third-party applications running in the background were able to access all of the information in the clipboard without the user's permission because of this flaw.
Apps might now access sensitive data such as copied passwords and credit card numbers without the user's consent. As a result, Google deactivated this function to safeguard user privacy. While this feature improved privacy, it also prevented cross-platform clipboard access.
As a result, if you were utilizing Clipsync or Clipcloud to retrieve clipboard data from your Android device, your workflows were disrupted after updating to Android 10. So, how can you go back to being a productivity ninja and accessing clipboard data?
Installing the Swiftkey keyboard on your smartphone will fix all of your difficulties. We'll show you how to set up the Swiftkey keyboard so that you may sync the keyboard data from your Android mobile to your Windows computer in this article.
A Windows machine running Windows 10 October 2018 update or later is required to enable cross-platform sync feature.
Also see: How to use ADB to restrict applications from accessing sensitive info from the clipboard.
---
In 2016, Microsoft purchased the Swiftkey keyboard, which has a great user experience and is simple to set up on any Android smartphone. Get the Swiftkey keyboard from the play store and set it as your default keyboard to allow clipboard access across your Windows and Android devices.
You may acquire it by clicking on this link. After you've installed the app, go through the instructions below:
Log in to your Microsoft account using the Swiftkey keyboard app on your smartphone.
On the app's home screen, choose Rich input.
Go to the Clipboard tab.
Toggle the Sync clipboard history button on and off.
Make sure your Android and Windows devices are both logged into the same Microsoft account. Cross-platform sync will not operate if this is not the case.
Also see: How to examine and restore Android clipboard history.
---
Setting up clipboard access on Windows is similar to setting it up on an Android device.
Step 1: After tapping the Windows key, go to Settings on your Windows machine by clicking on the gear symbol.
Step 2: Select System from the drop-down menu.
Step 3: Make your way to the Clipboard.
Step 4: Toggle the Sync across devices button next to Clipboard history.
After you've completed the steps above, you'll be able to use your Windows clipboard to retrieve the last thing you copied on your Android smartphone. Press the Windows + V key to access the clipboard on your Windows PC.
Also see: Why Doesn't Copy and Paste Work? ten fixes
---
It might be frightening to have an external program that has access to all of the data you input. Is the convenience of cross-platform synchronization worth the potential for data leakage?
When using features like cross-platform synchronization, the information you input is transferred to a cloud server and may then be accessed by other devices. This demonstrates the need of gathering data in order to allow features like cross-platform synchronization.
When it comes to Microsoft's Swiftkey keyboard, data is sent across encrypted channels rather than being kept or processed on Microsoft servers. Furthermore, material transferred using the clipboard is only accessible for one hour before being deleted from Microsoft servers.
However, this is just one aspect of the picture. You'll need to check in with a Microsoft account to use services like cross-platform synchronization. Once you've done that, you'll be able to use services like backup and Sync, and Microsoft will begin gathering data to provide a more personalized experience.
You may use your Microsoft or Google account to login into SwiftKey if you want to. Microsoft SwiftKey will then transmit data pieces about the words you use to a Microsoft cloud server on a regular basis. The fragments are saved in a format that may be synchronized with any other SwiftKey-enabled device.
through Swiftkey support from Microsoft
Additionally, if you agreed to the enhance Microsoft prompt while installing the program and checked in with a Microsoft account, the following information will be shared.
If you're logged in, your keyboard transmits data pieces to a Microsoft cloud backup service about the words you write and how likely you are to type them together. These fragments will be shared with a different Microsoft product enhancement service if you accept to share your typing data. Your provided data fragments will be anonymized as part of this procedure, and any personal or odd terms will be erased.
through Swiftkey support from Microsoft
Privacy of passwords and credit card information
Another important consideration when using third-party keyboards is how they handle password and credit card information.
Any information typed into a password box is not read or retained by Microsoft, according to the company. When you tick the display password check box and input a password into a password field, the field's attributes change from a password field to a text field, allowing Microsoft to read your passwords.
Microsoft claims that the keyboard is not meant to capture data that includes large digits when it comes to credit card details.
When considering the amount of data acquired to allow cross-platform synchronization, one may argue that personalization and productivity come at the expense of privacy. However, the Swiftkey ecosystem includes a number of privacy-focused features that may help users protect their personal information. In the next part, we'll go over this in further detail.
Also see: How can I repair the 0x80300024 Windows installation error?
---
Although Microsoft gathers a lot of data in order to provide personalization to its customers, there are numerous keyboard options that might decrease the quantity of data transferred to Microsoft servers.
When entering sensitive information, use Incognito mode.
Microsoft attempts to figure out how you utilize various terms in order to figure out your typing habits. You may use Incognito mode on your keyboard to prevent Microsoft from analyzing your typing habits.
Microsoft will not collect any typing data once this mode is activated, and it is automatically enabled when you begin a private browsing session in a browser or use Telegram's hidden conversation.
Follow the instructions below to activate Incognito mode on your Android device:
To access your device's keyboard, click on a text field.
To access the add-on toolbar, use the inverted arrow keys.
Select Incognito from the three-dot menu.
In addition to limiting Microsoft's analytics, data copied in incognito mode will not be synchronised between devices. As a result, when you use Incognito mode, all of your information will be kept secret.
---
Stop your Windows machine from automatically syncing data.
Cross-platform syncing might be a useful tool in your daily operations, but there are situations when you don't want data replicated on your Windows device to appear on your Android machine.
You may use manual syncing on your Windows device to regulate how copied data flows from your Windows device to your Android system. To do so, follow the instructions below:
Step 1: Go to your Windows system's Settings.
Step 2: Select System.
Step 3: From the menu, choose the Clipboard option.
Step 4: Under Automatic synchronization, choose the option next to Never automatically sync the text that I copy.
After you've made these adjustments, you'll be able to choose which data should be synced between devices.
To sync a specific snippet of data, access the clipboard using the Windows+V shortcut, then click the three dots and sync button to sync data to your Android smartphone.
---
Using a third-party keyboard as a daily driver to take advantage of features like cross-platform syncing has certain privacy concerns, and Microsoft's Swiftkey ecosystem has had some issues in the past.
In reality, owing to a fault in the Swiftkey design, some users were able to view the personal information of other users in their prediction bars back in 2016. This only goes to prove that no system is completely secure.
Swiftkey, on the other hand, may help you optimize your workflows if you utilize it with the correct privacy settings.
Also see: How to Fix the Error: Your Organization's Data Cannot Be Pasted Here
Curiosity drives a tech fanatic. A traveler and a bibliophile. An engineer who enjoys coding and writing about new technologies. I can't go a day without coffee.
Nischay may be reached by email at [email protected].
Watch This Video-
The "gboard clipboard sync" is a feature that allows users to copy and paste content from one device to another. This can be done on Android or Windows.
Frequently Asked Questions
How do I sync my android and Windows Clipboard?
A: There is no way to sync the Windows Clipboard with an android device.
How do I share Clipboard between phone and computer?
A: You should be able to do this by simply copying your clipboard on one device and pasting it into a text document or saving it to the cloud.
How do I sync Windows Clipboard across devices?
A: First, you need to enable the Clipboard service. This can be done through Control Panel > Administrative Tools > Services. Once enabled, open your Run command in Windows 10 and type services.msc (without quotes). In the results window find Clipboard from Microsoft Corporation and double-click it to start its configuration wizard; then follow these steps:
1) On Device 1 – click Advanced tab of settings for this device 2) Click on Allow users to manage their own clipboard 3) Uncheck Send all items by default 4) Close out of advanced tab 5) Navigate back out of settings 6) Back at Services screen in windows 10 7.) Right-Click on Service Name(i.e., Clippy), select properties 8.) Change Startup Type From Automatic To Manual 9.) Press Apply Changes button
Related Tags
clipsync
windows 10 clipboard sync android
clipboard sync across devices android
clipboard sync chrome
sync clipboard between mac and android